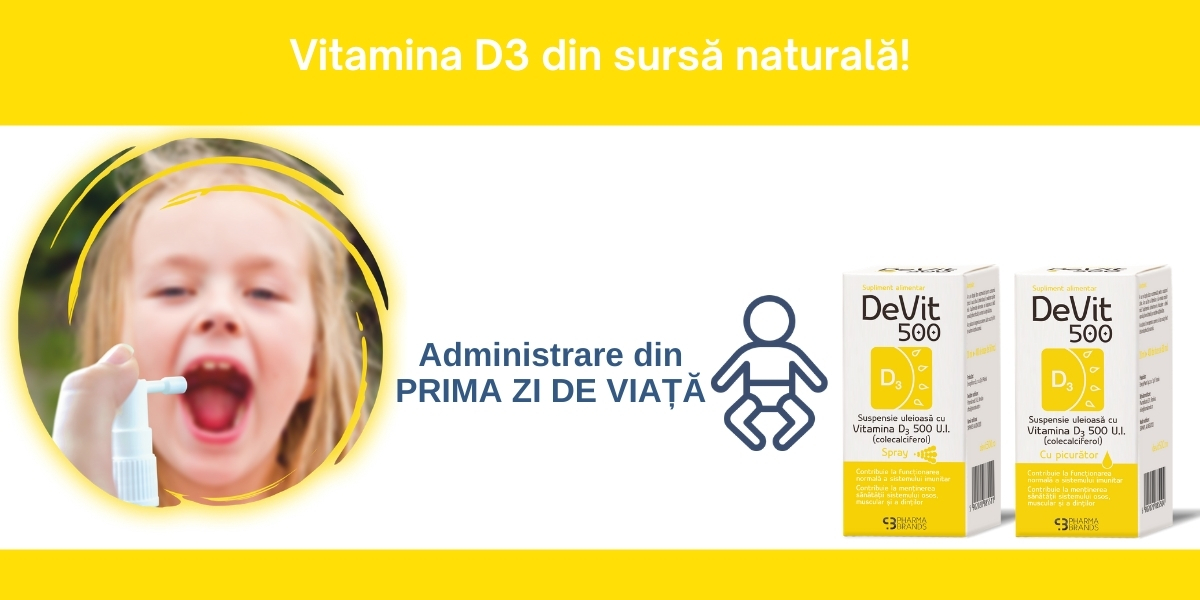 ABSORBȚIE RAPIDĂ ȘI EFICIENTĂ CU EFECT IMEDIAT, LA NIVEL OROFARINGIAN!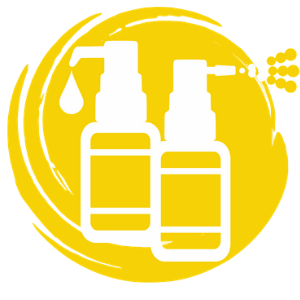 FIECARE PUF / PICĂTURĂ ASIGURĂ VITAMINA D3 ÎN CAVITATEA BUCALĂ PRIN PULVERIZARE SAU PICURARE PE INTERIORUL OBRAZULUI SAU SUBLINGUAL.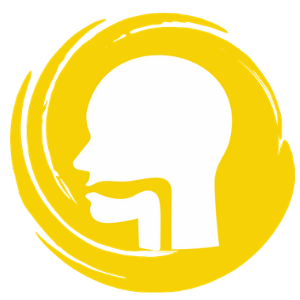 DEVIT 500 PENETREAZĂ ȚESUTUL MUCOASEI BUCALE, TRANSPORTÂND SUBSTANȚELE NUTRITIVE ÎN SISTEMUL BOGAT VASCULARIZAT AL ACESTEIA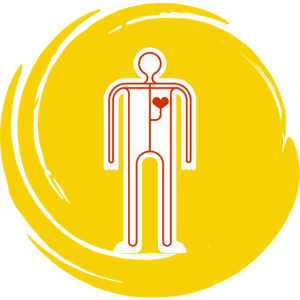 SUBSTANȚELE NUTRITIVE ESENȚIALE INTRĂ ÎN FLUXUL SANGUIN PENTRU O ABSORBȚIE OPTIMĂ, OCOLIND TRACTUL GASTROINTESTINAL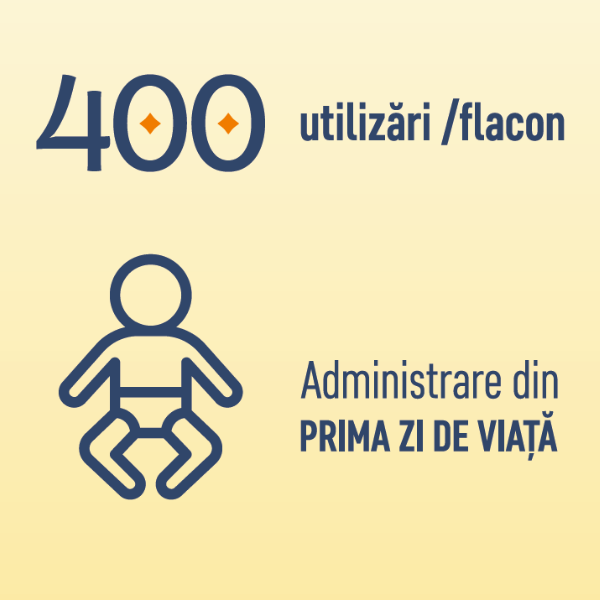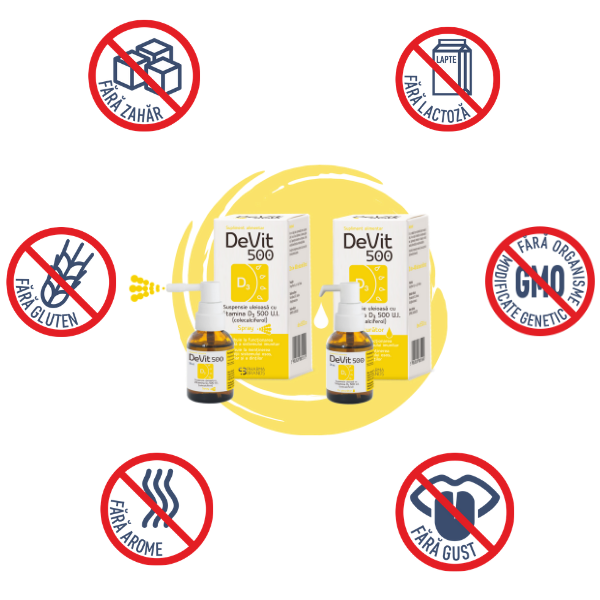 AVANTAJELE ADMINISTRĂRII DeVit 500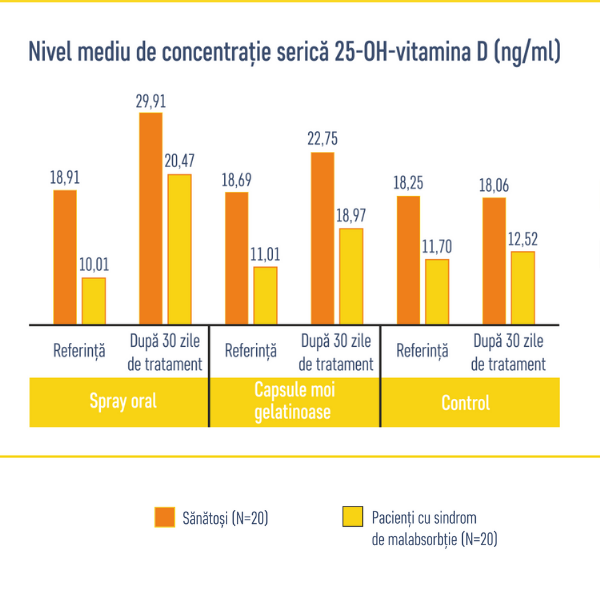 Ca urmare a administrării de vitamina D3 sub formă de spray oral, nivelul de concentrație serică 25(OH)D obținut a fost semnificativ mai mare în comparație cu rezultatele obținute în urma administrării de vitamina D3 sub formă de capsule moi de gelatină: nivelul de concentrație serică a crescut de 1.9 ori la subiecții sănătoși și de 2.6 ori la pacienții cu sindrom de malabsorbție intestinală.
Mod de administrare: 
1 caspulă gelatinoasă de Vitamina D3 (1000 UI/cps)
2 pufuri Vitamina D3 spray oral (500 UI/puf)
Satia M C, Mukim A G, Tibrewala K D, Bhavsar M S (2015) A randomized two-way cross-over study for comparison of absorption of vitamin D3 buccal spray and soft gelatin capsule formulation in healthy subjects and in patients with intestinal malabsorption. Nutrition Journal 14:114.
VITAMINA D3 DIN SURSĂ NATURALĂ (LANOLINĂ)!
*Shaffer J A, Edmondson D, Wasson L T (2014) Vitamin D supplementation for depressive symptoms: a systematic review and meta-analysis of randomized controlled trials. Psychosom Med 76(3):190-6.
**Deluca H F, Cantorna M T (2001) Vitamin D: its role and uses in immunology. FASEB J5:2579–2585. Yang C Y, Leung S C, Adamopoulos I E, Gershwin M E (2013) The Implication of Vitamin D and Autoimmunity: a Comprehensive Review. Clin Rev Allergy Immunol 45(2):217-26. 
***Hyppönen E, Läärä E, Reunanen A, Järvelin M R, Virtanen S M (2001) Intake of vitamin D and risk of type 1 diabetes: a birth-cohort study. Lancet.